Our volunteers play a vital role in the work of Wildflower.
Our goal is to expand our reach. We strive to increase—even double—the number of families we serve. In order to make this dream a reality, we are continually working to expand our network of committed volunteers.
We are always looking for volunteers to join our:
Advisory Board
Board
Communications Team
Development Team
Finance Committee
Governance Committee
Family Liaison Team
If you are interested in learning more about our volunteer opportunities, please contact us at info@wildflowerforkids.org or fill out a brief form and we will contact you.
Volunteer Spotlight: Arthur Greenberg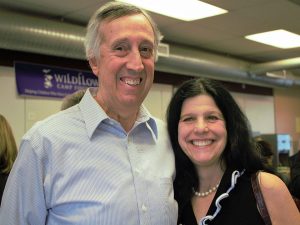 Arthur Greenberg would tell you that his many summers at Camp Skylemar in Naples, ME, contributed to the person he is today. When he retired as COO of Goodwin Procter after a 20-year career, he knew he wanted to find a nonprofit volunteer opportunity where he could use his business background to help the organization grow. "When I heard about Wildflower's mission and met with founder Cyndi Jones, I knew I had found the perfect fit." Arthur understands the importance of camp to any child, especially those healing from the loss of a parent. With this understanding, he has fully embraced Wildflower's mission.